Im Rahmen von Road to Battlefield™ 1 kannst du Battlefield™ 4 Final Stand vom 17. bis 24. Mai bei Origin, im PlayStation Network und auf Xbox Live kostenlos* herunterladen. In Battlefield 4 Final Stand kämpfst du vor dem Hintergrund einer grandiosen russischen Winterlandschaft. Schlag schnell zu, denn die Zukunft wartet auf niemanden – und nach dem 24. Mai wird diese Gratis-Aktion der Vergangenheit angehören. Weitere Information und Links zum Download findest du auf der Road to Battlefield 1-Seite.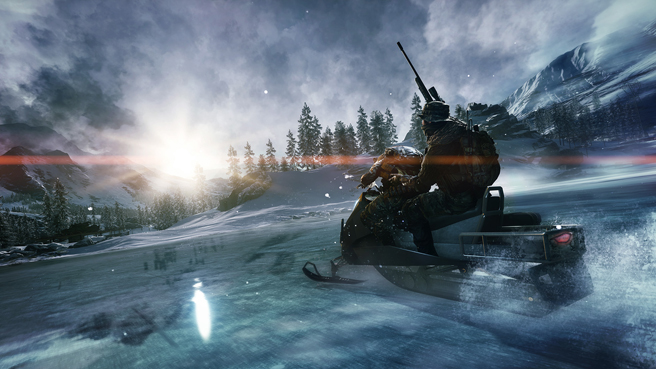 High-Tech-Waffenarsenal
Kämpfe an geheimen Militärstützpunkten und schnapp dir High-Tech-Waffenprototypen wie die verheerende Railgun Rorsch MK-1, die mit kinetischer Energie einzelne, mächtige Projektile verschießt.
Kämpfe dich durch den Schnee
Nutze das Schneemobil oder den experimentellen, extrem agilen Luftkissenpanzer HT-95 Levkov, um dich durch die von Schneestürmen umtosten, arktischen Landschaften der vier neuen Karten zu schlagen.
Futuristische Gadgets
Mit Gadgets und Kampf-Pickups wie der mit einem Maschinengewehr bestückten Flugdrohne XD-1 Accipiter oder dem listigen DS-3 Täuschziel gewinnst du die Oberhand auf dem Schlachtfeld.
Community-Mission: Bogen-Kills
Stürzt euch auf einer Karte eurer Wahl in einen beliebigen Battlefield 4-Multiplayermodus und erzielt gemeinsam 500.000 Millionen Bogen-Kills, um ein Gold-Battlepack zu erhalten. Diese Mission läuft vom 17. Mai 2016, 18:00 Uhr MESZ bis zum 23. Mai 2016, 18:00 Uhr MESZ.
Und das ist nur der erste Schritt …
Es kommt noch mehr. Schau alle paar Wochen wieder hier vorbei, um herauszufinden, was kostenlos erhältlich ist, und behalte auch den Twitter-Kanal von Battlefield im Auge – dort erfährst du mehr über kommende Doppel-XP-Events, Community-Missionen und weitere Gründe, uns auf dem Weg zu Battlefield 1 zu begleiten.